Posted on December 29, 2014 by Charles Houseman.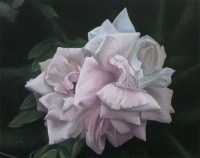 As we approach the end of this event-filled, media-saturated year, I find myself involuntarily withdrawing into the cocoon of my studio and family. Never can I remember such bad news continually coming through the airwaves. When did media decide that "news" is whatever bad that happens? I find myself looking more and more for common ground, only to see those who delight in discord and division. Many creative types look for beauty, whatever their definition of this means. I've always found beauty in nature. New work strives to find that meeting point of man and nature in garden design, and the forces that make the most of the natural and "built" worlds. Here's hoping our next year sees more evidence of good and beauty in this world. Happy New Year to all. Charlie
Posted on October 16, 2014 by Charles Houseman.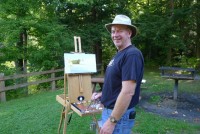 Invited artists for an upcoming Chestnut Ridge Benefit Exhibition along with artists from a landscape painting workshop gathered at Chestnut Ridge County Park on a recent beautiful Sunday. They spent the day exploring, sketching, painting and photographing the park in preparation for the exhibition. Thirty five artists spread out during the day, gathering reference material. It was an art-filled day at the park, as artists socialized, compared scenes, materials and technique. It was a beautiful day, and many artists will return to the park this fall and winter to work and gather references. We'll look forward to the exhibition to benefit the Chestnut Ridge Conservancy next May 30-July 18 at Meibohm Fine Arts in East Aurora. Judson Brown is shown painting at the Commisioner's Cabin pond.